The following essay is taken from the catalog for the show "Listening to the Seen: Paintings by Curtis Wallin."
In this, his first solo West Coast exhibition, Curtis Wallin presents a cohesive body of paintings and prints that continue his artistic dialogue with plants and the landscapes in which they reside. Surrounded as we are with this subject matter on a daily basis, we often fail to appreciate it or even notice it. But by displaying an exuberance and vibrancy that hardly exist in the natural world, Wallin's paintings flip a switch in our consciousness that forces us to stop and take notice. We find ourselves listening to the seen.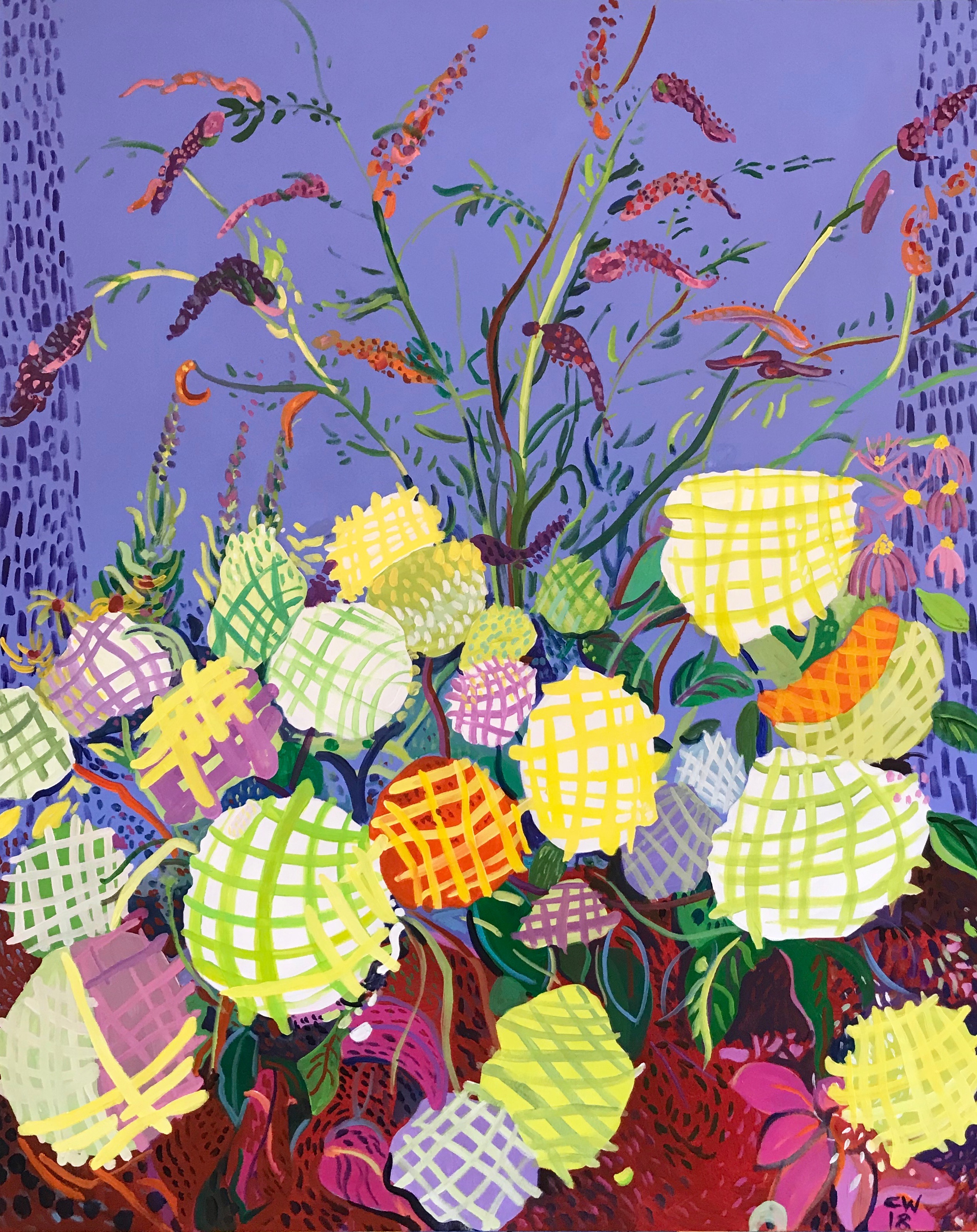 Though expressed through sometimes outrageously false colors, with subjects such as red lawns and plaid hydrangeas, Wallin's landscapes and botanicals still seem not only plausible but at times perfectly serene. While the hues reference psychedelia and capture surreal scenes that call to mind 60s- and 70s-era infrared slide film, the sometimes cartoonish brush strokes Wallin uses are clearly rooted in his decades of experience painting scenery for opera. But unlike backdrops that are meant to be viewed only from the remove of a theater seat, Wallin's pictures invite the viewer to come up close to hear the whispers of fine detail he works into the composition at the same time they compel a step back to revel in the visual outbursts that define the structure of the work. As such, there is a lot of physical movement required to experience the full range of Wallin's visual voice, which results in a gallery of visitors who are not simply strolling along the walls, but moving in and peering then backpedaling and considering each piece from a distance.
The exception to this rather active viewership requirement is found in Wallin's series of large watercolors, which were painted plein air along the coast of Northern California. The subject of the pictures ranges from the jumbled natural landscape of dunes and coves to more ordered efficiency of coastal farm fields, but the constant captured in these vignettes is the incomparable light pouring down from the Pacific skies and the palpable sense of the ever-present wind, mist, and fog that form the carrier signal Wallin uses to turn the passive viewer into an active listener.